Learn more
Do you know what is the best POS system solution?
Hintel solutions are innovative and practical embedded POS system solutions, which are especially designed for the POS industry by Hintel, and extremely distinguished from the traditional POS systems. It is also integrated with more functionality that are rich in features, reliable at the industry level and simple to set, use and maintain; these are the best POS system solutions for the small and midium-sized store business, and help to save your money & drive sales growth.
What are Hintel POS system solution benefits?
Hintel POS solutions are realistic and new generation innovation embedded POS system solutions to the retail industry. The retail operators can benefit from its multiple aspects, and run their business in the simple approach and cut much more operating expenses in the long run. This is ideal business machine in the retail stores.
CD-1410H Cash Drawer
Category: Cash Drawer Publish Time: 2015-04-07 00:00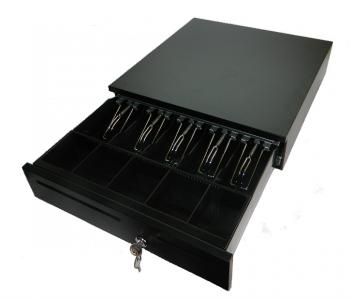 Model CD-1410H



The CD-1410H is the cash drawer as the peripheral device for point of sale system, helps cashier for efficiently handling cash in retail business, keeps customer's cash safe and protects from attack. This cash drawer comes with RJ11 interface, and its control instructions are compatible with the major receipt printer, it is electronically driven.
This product complies with CE, FCC & RoHS

Descriptions of product:
The CD-1410H is the cash drawer for point of sale system, helps cashier for efficiently handling cash in retail business, very convenient to use. And moreover, it is also effective security measure as this device is a heavy duty unit, able to keep customer's cash safe and protect from attack. The cash drawer comes with RJ11 interface, and its control instructions are compatible with the major receipt printer, can be electronically driven. Here are specifications for this model as below:
Basic specifications
:
| | |
| --- | --- |
| ● Material | Thick gauge cold rolled steel construction case |
| ● Surface | Textured hybrid coating |
| ● Drawer lock | 3 Lock positions: locked open/closed, manual open and electronically driven |
| ● Cash till | 5 bill slots and 5 coin slots made by shatter resistant ABS plastic and it is removable |
| ● Media slot | 1 (used for large bills, checks, and coupons etc.) |
| ● Control interface | RJ11 |
| ● Lifespan | MBTF 1,000,000 times |
Physical characteristics:


| | |
| --- | --- |
| ● Dimension(W x D x H) | 16.14 x 16.54 x 3.84 in, or 410 x 420 x 100 mm |
| ● Weight | 2.16 lb/5.5 kg |
| ● Color | Black |