HT-3535 Innovation POS Terminal
Category: Innovation Embedded POS Machine Series Publish Time: 2018-12-18 18:31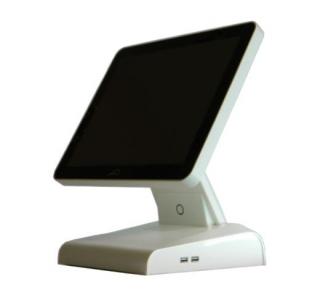 Model HT-3535 Innovation POS Terminal

This HT-3535 is an integrated innovation POS terminal system that has a very compact structure, and is suitable for use as back office system or terminal system in the online mode or both combinations together for those customers who just need one machine at a store. This machine is energy-efficient, and a real green product, which is capable to cut off much more power consumption (compared to typical PC-based point of sale system), and help to save more operating costs in your business.
This product complies with CE, FCC & RoHS
Descriptions of Product
:

The HT-3535 is among the Hintel's innovation POS terminal system product series, it uses Hintel's high-end innovation embedded desktop motherboard at industry quality level, integrates both hardware & software, and includes the advanced features to cater to different functionalities for the POS industry. This product is a complete all-in-one POS system that is very attractive, extremely distinguished from traditional POS system and highly competitive over the system stability, reliability and cost performance in the POS market. And also, this product is green cleaning POS product with super low system power consumption, it can help reduce the running cost for business owner, and its pricing is at reasonable and competitive price, and is ideal POS system solution for store business.

And this innovation POS terminal system is unlike personal computer (PC) that runs a variety of applications, in which many system resources are not required by the specific industry, it is wasted out or just consumed by PC system itself, and it's also prone to viruses, worms and security threats. Hintel's innovation POS system product is designed for performing the specific tasks of POS system activities that have been elaborated and tailored for use only in the POS industry; there are no compatibility issues, no viruses, no worms and security threats also. At the same time, this POS system use electronic storage device instead of Hard Disk (HD), there is no mechanical moving part, and the system data should be more safe and retentive.

And the Hintel's innovation POS system is a professional and modern solution to the POS industry, it is a high quality POS system product with high-efficiency system management that is rich in features, reliable at the industry level and simple to set up, use and maintain. And also, this system design greatly reduces the requirements for system maintenance and technical support. Especially in the most POS system work environment, often there are no highly skilled people, it is most important to relieve headache and save the running cost for the store operators. And compared to PC-based POS solution, the maintenance fees of this POS system are much lower in the long run and system breakdown time are far lower than PC also. It is perfect POS system solution for small and medium-sized business in the retail industry such as grocery stores, convenience stores, and supermarkets and so on.

This POS terminal machine is a system product bundling with hardware, software and related accessories that comprise all-in-one POS system solutions, and it is convenient for the customers who can make one stop instead of multiple stops. And here are system benefits/features, specifications and attachable peripheral devices for this model as below:
POS System Benefits/Features
:
New generation innovation POS system product
Eco-friendly/green POS system
Professional Green POS Operating System
Low maintenance requirement
Very low system power consumption
Innovatively designed for mass production
Cost-effective product design
All-in-one system
Other features (including POS Back Office and POS Terminal Application)
Back Panel Connectors and Ports
:
2 x USB on the I/O back panel
2 x USB on the front panel
1 x USB (built-in)
1 x LAN (RJ45) port
2 x Serial Port on I/O back panel
2 x Serial port (built-in)
1 x Stereo audio Line In / Line Out port (built-in)
1 x Video Graphics Adapter port
1 x PS/2 keyboard port
2 x DC 12V power jack
Internal connectors
Peripheral Devices
:
15" color industrial monitor
Customer pole display
Optional 58mm or 80mm thermal receipt printer
Cash drawer
Barcode scanner
Keyboard
Mouse
Product Safety Certificates
:
EN55032 Class B, FCC Part 15 Class B & RoHS etc.
Physical Characteristics of Main Machine
:
| | |
| --- | --- |
| • Dimension (w x d x h) | 226x245x52 mm or 8.90x9.65x2.05 in |
| • Weight | 5.4 kg/11.91 lb (including monitor) |

HT-3535 innovation POS terminal system is very easy to set up, use and maintain, it will save your time and running costs. And the related application system software and operating system are pre-installed in the POS machine before leaving factory. Upon purchase of this machine, just need to do the necessary configurations, and then the system is ready for your store business; everything works perfectly for the end-user. And as for the functionalities and features of point of sale (POS) system, please refer to sections of the prospectus of application system software for POS system.
________________________________________________________________
Link Pages Related to Hintel POS System Solutions
: